Attributed to: Toh Hui Leng, COO of FairPrice Group Supply Chain (FPGSC)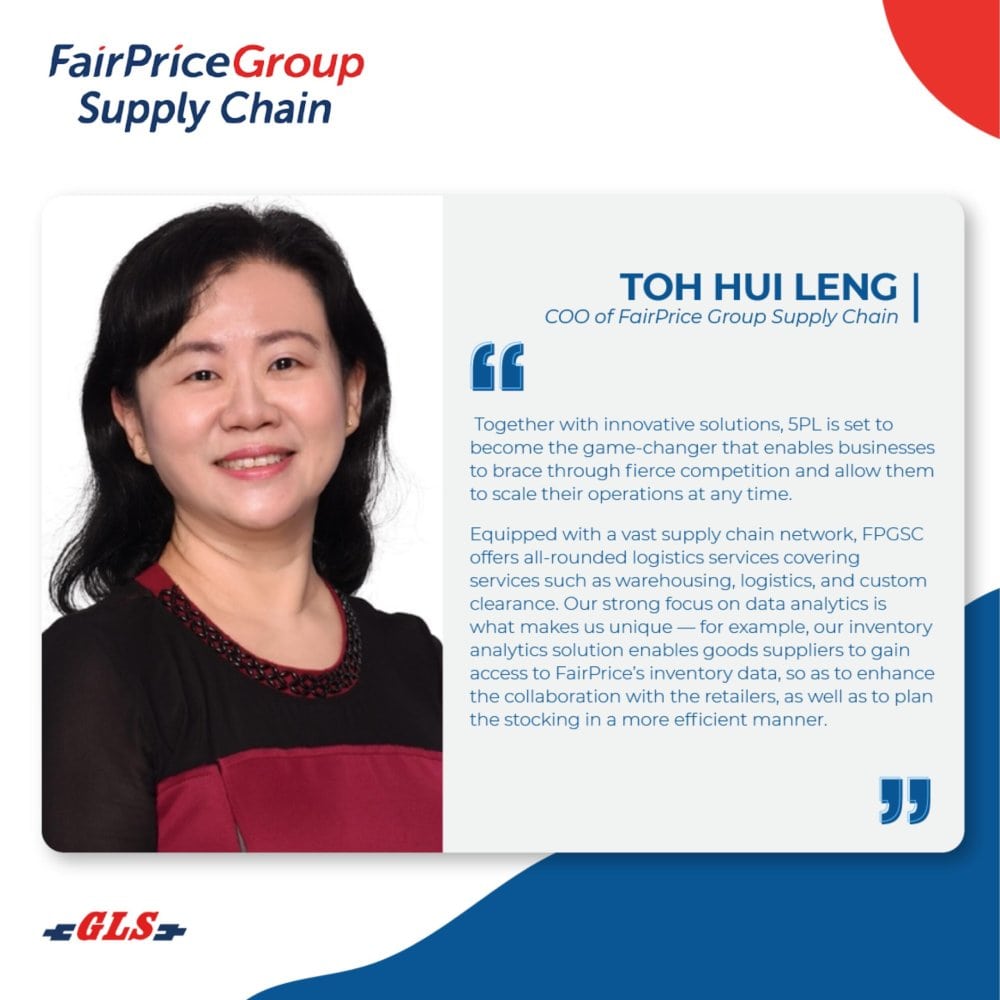 Attributed to: Toh Hui Leng, COO of FairPrice Group Supply Chain (FPGSC)
The pandemic has brought over 60 million of Southeast Asian consumers online, according to a report published by Facebook, and Bain & Company. The shifting consumption behavior has transpired massive opportunities in the e-commerce sector, pushing retailers to ride on the digitalization tailwind.
However, industry stakeholders are now facing an even more complex logistics landscape than before. Plagued with challenges, including rising shipping costs, raw materials shortages, and border shutdowns, businesses have been rethinking their supply chain and logistics strategies.
The success of every business hinges on a reliable supply chain. Although many companies have diversified their sources of goods to ensure that their product lines would not be hindered by external risks, there is still a lack of end-to-end supply chain visibility that enables the businesses to make better decisions to maximize their daily operations.
This is when fifth-party logistics (5PL), underpinned by a suite of innovative technologies, comes into play. 5PL goes beyond serving individual logistics needs, and has risen to become an effective solution to many e-tailers, where the logistics player handles the entire logistics process, inventory management, warehousing, and delivery services, among others.
The emergence of 5PL came at a time when major industries are forced to undergo a series of digitalization — in which data and technologies become a fundamental part of the daily operations. With the help of innovative solutions such as automation, Internet-of-Things (IoT), and analytics softwares, businesses can now gain insight into the entire supply chain operations.
How we did it
Long before 5PL became a trend, FPGSC/GLS has been building up our supply chain digital capabilities to offer better services to our clients. With FPGSC/GLS being the integral part of the entire FairPrice supermarkets' logistics operations, we have developed a strong third-party-logistics (3PL) capability over the years.
In response to supply chain disruptions, a more agile and resilient approach is required to the ever-changing logistics landscape. We set up our supply chain operations center, known as SCope, to support our end-to-end supply chain operations. We not only believe in the digital capabilities, but also investing in talents including data analysts, engineers, and scientists that make SCope a crucial asset to our internal and external logistics operations.
Equipped with a vast supply chain network, we offer all-rounded logistics services covering services such as warehousing, logistics, and custom clearance. Our strong focus on data analytics is what makes us unique — for example, our inventory analytics solution enables goods suppliers to gain access to FairPrice's inventory data, so as to enhance the collaboration with the retailers, as well as to plan the stocking in a more efficient manner.
It's now or never
It is often beyond the scope of logistics that companies have to think about what defines their core business activities, and whether they have the luxury to invest in an in-house team or online logistics solution while offering a speedy and affordable service.
With technology being a key industry driver, it is also crucial for industry stakeholders to partner with a logistics player that continues to invest in research and innovation. This will enable the businesses to stand at the forefront of the digital transformation, increasing the chance of success.
As the logistics and supply chain landscape becomes increasingly unpredictable at times, engaging with a versatile logistics service provider will eventually help the company to focus on what brings them the biggest value. Together with innovative solutions, 5PL is set to become the game-changer that enables businesses to brace through fierce competition and allow them to scale their operations at any time.